PRESS RELEASE
"Rev-Up MKE" Finalists Compete to Bring New Businesses to the Near West Side
Finalists will begin preparations for live-pitch event on September 24
MILWAUKEE – Near West Side Partners, Inc. (NWSP) today announced five finalists selected as part of the fourth annual Rev-Up MKE small business competition. The program's goal is to provide an opportunity for the winner – and as many finalists as possible – to expand or start a business in the Near West Side and receive the support it needs to be successful. This announcement brings NWSP closer to providing even more services to residents and employees in the Near West Side.
"The Near West Side has long been home to incredible start-ups – companies that started small and are now the iconic brands we know as Harley-Davidson and MillerCoors," said Keith Stanley, executive director of NWSP. "Based on the great ideas and high-quality applications we received again this year, it is clear that there continue to be motivated small business owners in the Near West Side. We are excited to hear the pitches at the fourth annual Rev-Up MKE competition.
The panel of judges selected finalists based on the strength of the applications and the quality of the business ideas. Each finalist will receive significant business training and support as they prepare for the live-pitch event in September when the winner will be selected."The Near West Side is ready to welcome another generation of entrepreneurs to our growing neighborhood, bringing new jobs and vibrancy to our commercial corridors," said Stanley. "So far, past winners have showed their commitment to the Near West Side by opening new storefronts and hiring employees who are also residents of our community."
"Marquette's innovation team is proud to be working with Near West Side Partners, Harley-Davidson and WaterStone Bank to support these up-and-coming entrepreneurs," said Kelsey Otero, associate director at Marquette University and project lead for the Rev-Up MKE competition. "It is a privilege to provide mentorship and support to the budding business owners who will soon present their business ideas to Rev-Up MKE judges and members of the Near West Side community."
FINALISTS
The five selected finalists include:
Drift LLC | Rachel Hawken
Drift is a New Zealand style food and beverage business that serves savory hand-pies, desserts, salads, and offers a full service espresso bar.
A Goodman's Desserts | Alan Goodman
A Goodman's Desserts creates scratch-baked desserts, including their signature bread pudding, butter cookies and lemon pound cake, all baked to perfection.
INPOWER | Aziz Abdulah, Asada Njuguna, Emani Taylor & Raven Washington
By leveraging a global network of freelancers and gig providers the company helps with all your outsourcing needs, especially when it comes to logo & branding, graphic design, writing, and marketing.
Esure Transit LLC | Emonie Patton
Esure Transit is a non-emergency medical transportation company that offers rides to help improve patient access to care.
The Farmer's Kitchen | Tabatha and Justin De Leon
A charming, affordable, and healthy farm to table diner that specializes in breakfast and lunch. Food will be sourced directly from their own farm for a unique dining experience.
BUSINESS TRAINING & LIVE PITCH EVENT
The program will culminate with a "Live Pitch Event" on September 24, hosted at the Rave/Eagle's Ballroom where each finalist will present before a panel of judges. The winner – who will be announced that evening – will receive significant resources to support their new venture, which will be located in a Near West Side storefront, including:
$10,000 cash gift;
$25,000 in in-kind services (architectural renderings, small business consulting, talent management coaching, payroll services for a year, free legal audit and communication support); and
Advertising and recognition from Near West Side Partners.
Updates to this year's program include:
Increased mentoring support from the Near West Side anchor institutions; and
Engagement opportunities with Near West Side stakeholders and local government officials.
Additional details about the finalists and the live-pitch event are available on the NWSP website here.
"We are excited to begin this next phase of the competition – working with each of these five finalists to help refine their business model and prepare for the live-pitch event," said Stanley. "We hope that the support from this process, as well as the resources provided to the final winner, will become a catalyst for continued entrepreneurial endeavors in the Near West Side."
ABOUT NEAR WEST SIDE PARTNERS, INC.
Near West Side Partners, Inc. is a non-profit organization with a mission to revitalize and sustain the Near West Side as a thriving business and residential corridor, through collaborative efforts to promote commercial corridor development, improved housing, unified neighborhood identity and branding, and greater safety for residents and businesses.  Near West Side Partners, Inc. is an organization of businesses and civic leaders from throughout the Near West Side, including the organization's five anchor institutions – Advocate Aurora, Harley-Davidson, Marquette University, MillerCoors and Potawatomi Business Development Corp.
The 2nd annual Franksville Food Truck Fest is coming to Franksville Memorial Park this Fall! The event is FREE to attend (including parking) and will feature the area's favorite food trucks, craft beer & wine, live music, bounce houses, playgrounds (including the 20,000 sq ft Kids Connection Community Built Playground) and tons of fun for the entire family.
Drift, photo by Brad Ryan
These meals on wheels are worth following.
This 3-year-old enterprise's decadent Liège-style waffles are easy to find. On Saturday mornings, Press' team sets up indoors at Hawthorne Coffee Roasters (4177 S. Howell Ave.; 8 a.m.-noon). They also set up by tent or charming 1962 vintage camper trailer at the South Shore and Tosa farmers markets. On Sundays, they're at the Shorewood farmers market. Press' crispy, buttery Belgians come plain or with multiple sweet or savory toppings. Owners Aaron Rosko and Emily Thomas use a homemade brioche dough, adding the trademark pearl sugar which caramelizes the exterior and leaves wonderful lumps of sweetness inside. That's why they're great plain, but you if you love extra-sweet, try lemon curd, blueberry compote and whipped cream. $5-$8. Full schedule at presswaffles.com.
The truck came before the food court location in an apartment building on the old Pabst Brewery grounds. It was a sticky-hot summer night that I hungrily demolished a pork adobo bowl, one of the great Filipino specialties of this brother-sister business. Try the binakol bowl (a coconut chicken soup) or the brunch bowl (rice, seasoned pork, over-easy egg). New items this year include "halo-halo," an ice cream-mixed fruit dessert. $4-$8. For the truck's whereabouts: check its Facebook page.
This year the County Parks' traveling beer garden has a power food partner in Iron Grate, which has signed on for Friday nights and Saturdays (Fri 5-9 p.m., Sat 11 a.m.-9 p.m., weather dependent). It's a big coup for the parks and as much a reason to head to the garden as the beer and weekend live music. Expect some tummy rumbling aromas emanating from owner Aaron Patin's wood smoker. The menu includes various pork products – including hot links, pulled pork sandwiches and a meat-and-two-sides combo – as well as Frito pie and a snack plate of homemade meat sticks and summer sausage, cheese curds and pickles – which sounds perfect combined with the pretzels also for sale at the beer gardens. $8-$15.
In summer 2017, this mobile café serving meat pies and Anzac biscuits occupied a regular Third Ward spot – a parking lot just south of Café Benelux. This summer, owner Rachel Hawken is working on establishing a permanent base for her New Zealand-inspired trailer in that spot (330 N. Broadway). In spring, Hawken was busy jumping the city-mandated hurdles in hopes of opening the "perma truck" in June. She's shooting for daily hours and a beachy vibe, complete with a steel-wood canopy and decorative surfboards. I like that the menu is still focused on easy, breezy handhelds, like the Thai chicken curry pie, steak and cheese pie, puddings and gooey chocolate Afghan biscuits. Full espresso drink menu, too. $3.75-$8.50.
The Thiensville-based restaurant sends out its mobile emissary from (weather depending) spring through fall, generally hitting the weekly summer food truck events: Tuesday (Schlitz Park), Wednesday (Westown Farmers Market), Thursday (Milwaukee County Courthouse), Friday (U.S. Bank Center). The menu focuses on four sandwiches (chicken shawarma, breaded eggplant, chicken schnitzel and, of course, falafel). All come in a warm pita with hummus, tahini, pickles and cucumber salad. $7-$9.
https://www.milwaukeemag.com/milwaukee-food-trucks-you-should-try-this-summer/
6 new-ish food trucks worth finding in Milwaukee
Food trucks aren't the novelty they once were. The fleet is bigger, and it travels farther.
They now gather beyond Milwaukee in suburban locations, sometimes for lunch, more often for dinner (see accompanying listing). It's generally easier to find food trucks — although Cedarburg this year prohibited them from public streets, restricting them to private property.
But food trucks come and food trucks go — into and out of existence, that is, not just parking spots. The lineup is different every year. Have a look at some of the trucks and carts out and about this summer:
Drift
This stylish trailer's menu takes its cues from New Zealand, where owner Rachel Hawken lived. From the espresso bar come flat whites and other coffee drinks; the heated case holds hearty meat pies and breakfast pies; the flaky crusts are superior and the fillings flavorful, such as the mince pie's juicy chopped beef ($8).
Other baked goods include New Zealand's Afghan biscuit, a chocolate cookie holding caramel-like crunchy bits that's frosted with chocolate ganache and crowned with a walnut half ($3.50). Drift also sells scones ($3.50) and tea, plus carbonated drinks from Australia.
Usually parked Tuesday through Friday for breakfast and lunch at 330 N. Broadway, Drift also hits special events. Keep tabs on Facebook,Twitter and Instagram; the full menu is on the website, driftmke.com.
Foxfire
Foxfire is the truck for a killer fried-chicken sandwich. It's perfection — super-crisp breading that doesn't budge from the moist meat. It's topped with mayonnaise and pickles, and nestled in a buttery toasted bun. It's the constant on the menu, while other items by chef Bryan Phillips (previously of Le Rêve in Wauwatosa and other restaurants) change regularly. Lately, the grilled cheese sandwich is made of brie that melts into roasted tomatoes and ramp pesto ($8).
Phillips and co-owner Maggie Reid always offer a vegan or vegetarian item, recently a bean-filled pupusa  and curtido ($4), the Salvadoran cornmeal patty and slaw. An array of hot sauces stand at the window for any doctoring customers want to do, right next to a bouquet of summer's flowers.
Foxfire can be found outside Burnhearts bar, 2599 S. Logan Ave. in Bay View, most Sunday afternoons. For its schedule, see Facebook, Twitter and Instagram.
Chillwaukee
Chillwaukee's exceptional frozen pops are richly flavored with seasonal fruit, herbs, cocoa and other tasty ingredients. Collin Wallace pedals a trike-cart and peddles inspired pops such as strawberry with basil and peach with thyme, outstanding combinations made by him and Danielle Dahl. (The creamy but vegan sea salt chocolate pop is a must-try, too.) Pops are $3 apiece, and packs of six or 10 are available.
Chillwaukee is at the Saturday morning Cathedral Square Farmers Market and Wednesday afternoon Westown Farmers Market at Zeidler Union Square, among other places. Keep tabs at chillwaukee.com, Facebook, Twitter and Instagram.
Lumpia City
The Filipino snack of lumpia, like a slender egg roll, traditionally holds pork, carrot and onion. Lumpia City, though, is all about bending tradition. Owners Alexa Reyes and Samantha Klimaszewski fill what might be a food that's unfamiliar to diners with familiar American fare.
Recently, that included macaroni with five cheeses and shredded chicken with poblano pepper and corn. The lumpia (three for $6, six for $10) are expertly made, tightly rolled and fried just right. Dipping sauce choices include cilantro-lime mayo, sweet chile and sour cream.
Reyes and Klimaszewski brought the trailer from San Diego, Alexa's hometown, to Milwaukee, Samantha's hometown, opening it in May.
Lumpia City will be at the Sugar Maple bar, 441 E. Lincoln Ave., from 2 to 8 p.m. Sundays in August; the full calendar and menu are at lumpiacity.com. It's also on Twitter,Facebook and Instagram.
The Fatty Patty
Using halal meats, the Fatty Patty specializes in burgers — specifically, double or single patties on brioche buns, oozing melted cheese, like the Gloppy ($7.99), a double with American and Swiss cheeses, turkey bacon, pickles, mayo and lettuce.
Owner Amir Rasuli's truck also sells vegetarian sandwiches ($5.99) — a black bean patty or fried eggplant — as well as grilled chicken sandwich, gyros and sides such as seasoned fries and onion rings.
It's sometimes posted at N. Water St. and E. Wisconsin Ave. for lunch and late night. Find its location on Facebook; also at thefattypatty.com.
Gypsy Soul
Robyn Smith's food truck, based near Lake Geneva and new to Milwaukee this year, weaves vegan and gluten-free items into its menu, along with some organic ingredients. Besides sandwiches, there are items like vegan nachos, a salad or wrap, plus smoothies. The Free Bird ($14) is a substantial mound of beer-braised chicken, corn salad, kale, queso fresco and Alabama white sauce on a cheddar-jalapeño corn cake.
Large smoothies, like the Berry Acai Blast ($8) with blueberries, strawberries, acai berries and other ingredients, can be made into a bowl with fresh fruit and granola for $3 more.
The truck hits music festivals and cities throughout southeastern Wisconsin and food truck roundups in suburban Milwaukee; keep up on Facebook.
FOOD TRUCK ROUNDUPS
A sampling of roundups where food trucks can be found this summer, aside from farmers markets, festivals and the usual lunch spots: 
The Rock'n Food Truck Rally is 4 to 9 p.m. every Thursday through Sept 28 at the Rock Sports Complex's umbrella bar, 7900 Crystal Ridge Drive in Franklin. The event has live music, and the bar sells drinks.
The Traveling Food Truck Tour will be making stops in West Allis and Oak Creek through summer. It's at the West Allis Farmers Market, 6501 W. National Ave., from 4 to 9 p.m. Aug. 23 and Sept. 6 and 27. It will be in Oak Creek at Drexel Town Square, W. Drexel and S. Howell avenues, from 4 to 9 p.m. Aug. 2 and 30 and Sept. 20.
Food Truck Days will have its last gathering of the year from 11 a.m. to 2 p.m. Aug. 17 in the parking lot at Wauwatosa City Hall, 7725 W. North Ave.
And in Milwaukee, Street Eats takes place from 4 to 8 p.m. Friday July 28 and Sept. 15 at the Third Ward's Catalano Square, off E. Menomonee St.
Local entrepreneur to launch Drift, a New Zealand inspired mobile cafe
Published May 3, 2017 at 4:01 p.m.Rachel Hawken was born and raised in the Milwaukee area. But, she's a Kiwi at heart. And she'll bring her love for New Zealand's mobile cafe culture to Milwaukee next month when she launches her new food truck, Drift.
Hawken says she owes her love for the Pacific country, in part, to her husband Ryan, who is originally from Whakatane, New Zealand.
"We actually met in Wales while we were both studying abroad as seniors in college," notes Hawken. "From there, we moved to Minnesota, where I worked as an IT consultant for a year before we decided to spend some time traveling. First, we took a road trip around the U.S. on $50 a day in a two-door hatchback. And then we decided to take a leap and move to New Zealand."
In the six years they spent in Aotearoa (the Maori name for New Zealand), Hawken says she fell in love with the mobile food scene.
"They have these really cute little open-air pillbox campers," she says. "And they'd set up at the beach where the surf clubs would gather. There are a lot of French-inspired trucks. There was one that served crumpets, and then a number of them serving savory pies and coffee."
A taste of New Zealand
When Hawken moved back to Milwaukee, she says the idea of starting a food cart began to take root.
"We've been obsessed with the idea of recreating a Kiwi food truck for so many years," she says. "But the timing just wasn't right. Now that we're settled in and raising our family, the flexibility of a food truck is appealing. It's something we're both passionate about, and we've had a lot of time to really think about how we want to do this. It's going to be really fun to give people a little taste of New Zealand."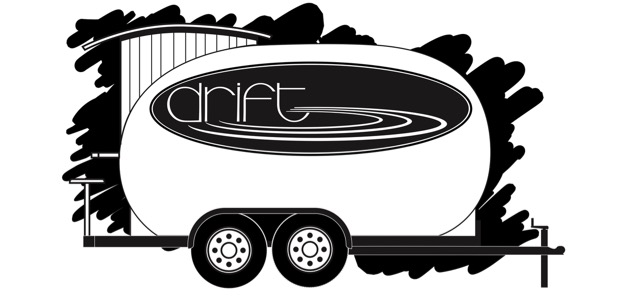 The truck itself, which is currently in production, will be modeled after the pillbox campers she remembers. It will feature an ordering counter on the side, along with four seats at an espresso bar on the back of the trailer.
As for the menu, Hawken says that Drift will feature a variety of New Zealand specialties, including savory pies, sausage rolls, Vegemite on toast, anzac biscuits and coffee.
"We really want to provide an authentic down-under experience," says Hawken as she describes the savory pies, which are made with a dough that's similar to puff pastry. "There's nothing like them here. They're delicious and hearty, and just so good."
Flavors for the pies, which will be sourced through a collaboration with New Zealand bakers from Down-Under Bakery pies, will include mince (ground beef) & cheese, steak and cheese, chicken and vegetables, Thai chicken and curried vegetable. Each will cost $6-8.
Hawken, who notes that she's worked off and on as a baker's assistant, says she'll be making the sweets served on the truck, which will include Anzac biscuits, cookies with a relative similarity to American oatmeal cookies; Afghan biscuits, crunchy chocolate biscuit with chocolate ganache and a walnut garnish; and Caramel Slice, sweet bar cookies with a granola and coconut base topped with caramel and chocolate.
Other offerings will include imported treats and sodas including L&P paeroa and lemon soda, ginger beer and Whittaker's Chocolate.
Meanwhile, the truck will feature a full espresso bar, complete with a retro pull-down espresso machine. The coffee itself will be sourced from Chocolate Fish Coffee Roasters, a Sacramento-based company owned by a family from New Zealand.
"We'll offer espresso, lattes and drip coffee," Hawken explains. "But also the Flat White, which is a New Zealand drink with two shots of espresso and steamed milk."
Hawken, who says she expects the truck to debut sometime later in May with an official launch in June, says Drift is likely to make appearances around town during breakfast and lunch. However, they'll also be open to serving at events, as well as taking on private catering contracts.
You can follow Drift's progress, and track their location, on Facebook, Twitter and Instagram.
Web address: http://onmilwaukee.com/articles/drift-new-zealand-mobile-cafe.html
A New Zealand Food Truck?
Finally, some Vegemite on toast. Plus: two new East Side restaurants.
Milwaukee native Rachel Hawken and her New Zealand-born husband will bring their passion for all things New Zealand to Cream City with their food truck, Drift, set to debut in late May. Its Kiwi-land specialties will include savory pies, sausage rolls, and, of course, Vegemite on toast.
OnMilwaukee.com reporter Lori Fredrich offered more details:
"We really want to provide an authentic down-under experience," says Hawken as she describes the savory pies, which are made with a dough that's similar to puff pastry. "There's nothing like them here. They're delicious and hearty, and just so good."

Flavors for the pies, which will be sourced through a collaboration with New Zealand bakers from Down-Under Bakery pies, will include mince (ground beef) & cheese, steak and cheese, chicken and vegetables, Thai chicken and curried vegetable. Each will cost $6-8…

Sweets served on the truck…will include Anzac biscuits, cookies with a relative similarity to American oatmeal cookies; Afghan biscuits, crunchy chocolate biscuit with chocolate ganache and a walnut garnish; and Caramel Sand.
Drift will also have a full espresso bar featuring coffee from Sacramento-based Chocolate Fish Coffee Roasters. You can follow Drift, and track their location on Facebook, Instagram, and Twitter.